5 Best Used Minivans You Can Rely On
December 29, 2016

Posted by

Ryan
Comments Off

on 5 Best Used Minivans You Can Rely On
Even with great credit and an excellent auto loan, you don't want to waste money by buying the wrong used minivan. Just like some new models will do better than others, the same is true for used ones. Certain brands tend to be more reliable as they age or simply last longer, making them better options in the hunt for a used minivan. Instead of worrying about which one you should buy, just follow this list to discover which models you should consider.
Toyota Sienna (Second Generation)
The Toyota Sienna's second generation ran from the 2004 to 2010 model year, and the minivans right at the end of this generation are excellent choices for used minivans, earning the top rankings from industry experts. The 2009 and 2010 models, in particular, stood out for their available all-wheel drive and class-leading 266 horsepower from the 3.5-liter V6 engine. When you find these models, you will always notice at least 6 speakers, an auxiliary audio input, power windows, and dual-sliding rear doors. Just keep in mind that while the Sienna is the best used model, you may want to go to the third generation if you want better safety ratings.
Kia Sedona (Second Generation)
The second generation of the Kia Sedona includes the 2006 to 2014 models and has better safety ratings than the Sienna's second generation. The Sedona of this generation also came with numerous standard features like a USB port, satellite radio, and rear parking sensors, the last two of which are unlikely to come standard on other minivans from the same model years. Because the Sedona's second generation spans later model years, you will also get a more recent vehicle for a lower price.
Honda Odyssey (Third Generation)
Look towards the end of the Honda Odyssey's third generation, particularly the 2009 and 2010 model years, and you will see another of the best minivans available. While previous models in this generation, which began in 2005, are also good, the Odyssey does well in terms of safety and agility, both of which being areas where it beats the competition. It also has better ratings for its performance and interior than the Sienna, but remember that it appears a bit outdated in terms of styling.
Chrysler Town & Country (Fifth Generation)
While the Chrysler Town & Country no longer exists as a new model, it is an excellent choice for used models, and the fifth and final generation is highly affordable. This is great news considering the last generation ran from 2008 to 2016, so the models are recent. While the Town and Country isn't as refined as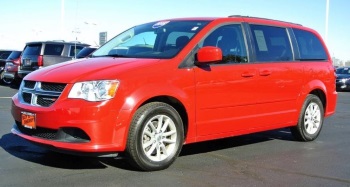 some of the competition, it does have excellent cargo space and gains extra points for its convenient seating arrangements. If you choose a newer used model, you may even find one with the rear-seat entertainment system.
Dodge Grand Caravan (Fifth Generation)
The fifth generation of the Dodge Grand Caravan is the previous one and goes from 2008 to 2016, with the 2009 model offering a great value as used. You may find a 3.5-liter V6 or a 4.0-liter V6, and if you have the choice, go with the upgraded engine. You will find flexible seating and plenty of interior space, but less refinement than the c